What chance has France got with a Minister for Justice like Christiane Taubira !
Caption reads:
"I use my ministry to get my revenge against France and the French"
And she certainly does settle "her accounts" with the French...Hell hath no fury like a Taubira scorned.
Here is just one example: A poor, not all that well educated native white French girl whose crime was, in my view, more against good taste than really evil, posted the following little picture of Christine Taubira, the Minister of Justice for France, on her face book page.
at 18 months
now
Of course, this little picture might well have been racist and the young woman having posted it might well be a little racist, but in my opinion she is not even half as racist as Taubira herself. More significantly though, she has two serious handicaps going against her: She was a member of Marine Le Pen's party, the Front National and she is French AND white.
Anne-Sophie Leclerc
The result for the hapless young French woman, Anne-Sophie Leclerc:
She was tried , in the district court of Cayenne, many flight hours from France, the (native island of Taubira who without much doubt was behind this Kangaroo Court as the complaint was lodged by a "society" created by someone called 'Taubira'.) . The young French woman, unlike Madame Taubira not financed by the French taxpayer, could of course not afford a voyage to French Guinea, so she was tried in absentia
and sentenced t
o 9 months in prison.
As if that was not over the top enough, the girl, as well as being banned from standing for any public office for something like a 1000 years had to pay 50,000 Euros damages to the repeat victim of raaaaaaaaaaaaacism, Christiane Taubira.
Le Front National was also sentenced to pay 30,000 Euros to her Majesty Taubira. From memory, a family member of Taubira was sitting on that Kangaroo court in judgement over this hapless young French woman, but Taubira, the grotesque Minister for Justice vehemently denied that she had "anything to do with all that" declaring that she was the "veeeeekhteeeeeeem" of "raaaaaaaaacism" yet again.
Here is a 'before' picture, of the French Minister of Justice who really doesn't seem to like France, nor the French. While she made it her mantra to accuse the bad whiteys of slave trading, she forbids anyone to even "mention" the slave-trade perpetrated by blacks against blacks and even more so the slave trade practised by Arabs (a trade that continues via the IS to this day).
Here she is now, thanks to the French Tax Payer's generosity who does not only pay her lots and lots of Euros, but, allededgly also feeds her "partner" whom, I hear, she has installed in a rather comfy Government position, to mention but one of her direct beneficiaries. I believe face lifts and "Elle" photo shopping don't come cheap either....
OKAYYY ALREADY !!!
I deserve the "Miau" I'm hearing in the background:)
I heard that the Queen of England carries her own umbrella as do quite a few other classy "dignitaries", but not Madame Taubira.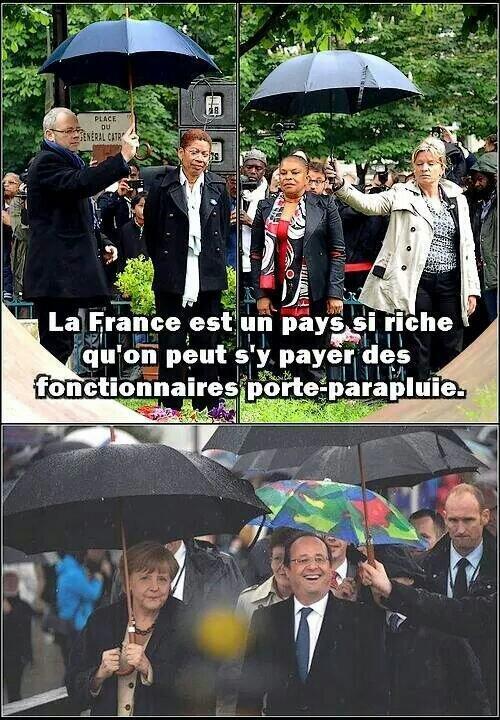 France is such a rich country that one can afford to pay public umbrella carriers...
A little fetching chanson for Madame la Ministre de la Justice "Francaise"
(And yes, you guessed right, I don't like her at all. )