From the start, I have never never hidden which one was NOT my horse in this race.(*) The main problem I had with mine was his hairstyle, seriously! I do like vanity in a man, but someone should have advised him to let go of the curtain.
And now, that les jeux sont faits and rien ne va plus, let me play Cassandra for you:
1. Donald Trump will not be elected.
Time for a little confession: Secretly I had actually hoped that Mrs. Clinton would win this race to the bottom, because - should "the Donald' win, his followers would expect him to perform miracles and immediately walk on water. Whereas, win or lose this time, he has lifted enough skirts on the corruption of the Obama/Clinton/Saudi/Sorros/etc camp for the stench to awaken many a sleeping sheep (if I may mix a few metaphors), and he has helped a groundswell to build that has become a real agent for change:
2. Mrs. Clinton's presidency will not last the full term !
Donald Trump has "mates" in Sydney, Australia.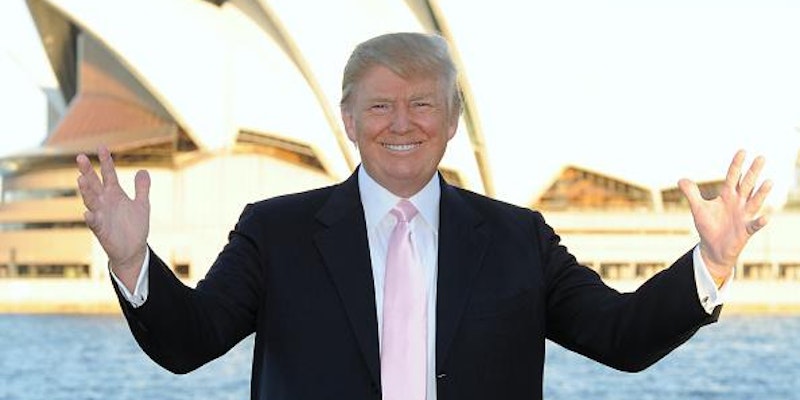 Tomorrow, invited by the delectable Ross Cameron, they will celebrate Donald Trump's "Last Stand" in Sydney, Australia from "8 am till death or glory", with "good coffee, good company, Bud, Buffalo wings and live cable news feed". One of the most intelligently outspoken Australians, former Labor Leader Mark Latham, and the terminally charming Editor of the "Spectator", (a magazine I recommend), Rowan Dean will join Ross Cameron.
They have decided to spend the US election day together, watching the results on a wide screen TV at the NSW Rugby Club, Circular Quay from 8am. (Time zone means US election day is Wednesday in Sydney). Perhaps, if you are nearby, you'll have still time to register here:
And there are other Australians, not running with the pack, one of them is Senator Pauline Hanson, Leader of the "One Nation" party, interviewed here by one of the most courageous Media men in Australia, Andrew Bolt. Both have been maligned nearly as much as Donald Trump, on an Australian scale.
I just know you won't but still: here I go:
PS: As I'm writing this, the taxpayer funded Australian Broadcasting Corporation (ABC) are continuing to violate their Charter ie "objective " and "balanced" reporting, and are continuing to shamelessly hassle for the corrupt Clinton camp. (ABC TV Lateline, 10.30 pm Sydney time).