I have quietly despised Michael Leunig since he came out of the closet as a Jew Hater. Yea yea, I know, he too from time to time still wore the see-through fig leaf of the "I-dont-hate-Jews-only-Israel" lie. I find this mantra vulgar and I hate Jew hatred, seemingly the default position of the modern Left. In Australia "left causes" of this kind are ruthlessly promoted by tax-payer funded Media like the ABC and SBS who want to be like the BBC when they grow up and who both out-aljezeera Aljezeera and by the Fairfax press.
Leunig is a daaaarling of and in the pay of all three. He publishes his cartoons in the islamophile "Sydney Morning Herald" and "The Melbourne Age".
In the year 1999 he was even honoured with the title of "Australian Living Treasure"; you earn plenty of brownie points from the pack if you run with them.
And now, in chronological order, to the pictures which made me reach for the vomit bucket:
Here is an "Australian", Mohamed Elomar, holding up two severed human heads, trophies of his "jihad".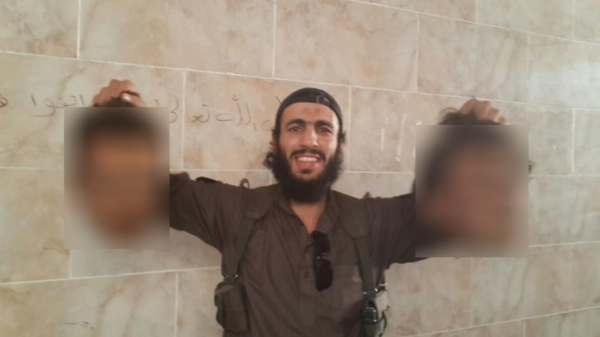 "Australian" Mohamed Eloma
A picture of his son that appeared on his website with the caption: "that's my boy". (Published in The Australian Newspaper).
The American Journalist, James Foley, a minute before an English sounding (*) Islamic jihadist cuts off his head in front of the camera.
And here is the "cartoon" by Leunig declaring his hand once more, a few days after this decapitation murder.
This sneering cartoon is nothing less than a blatantly defiant promotion of "swords" and islamic barbarians.
The "message" from the "Australian Living Treasure" is quite in tandem with that of James Foley's murderer.
PS: I dont know if "Leunig" dedicated an approving cartoon to the Lee Rigby or other beheadings of Westerners...
(*) For more about the islamic murderer, a rapper who featured on BBC, click here