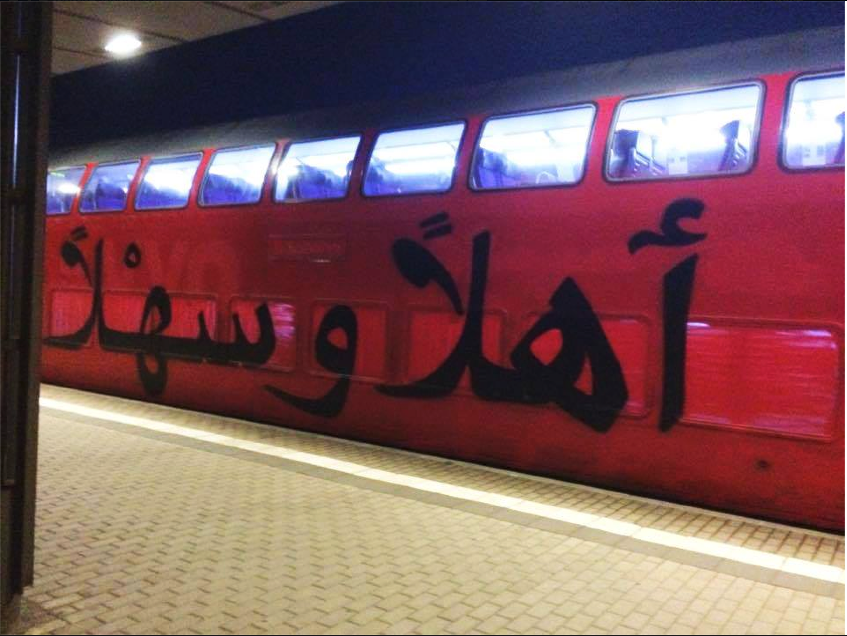 "Welcome Refugees!" - on a train in Dresden Germany
What are her reasons for this? Why is she so eager to flood Germany and Europe with people who - to a great majority - have imbibed "Hatred of the Jew" with their mother milk? It's in the Koran: "Erase Israel and the Jewish people from the face of the earth" or Arabic words to that effect. This mantra is repeated even now, day after day, a million times, in Islamic prayers.
Whatever her motivations are, a corrupt relationship with Qatar, promiscuous complicity with the "trendy" world media, or a deep-seated (if hidden) Jew hatred à la Martin Luther (her father was a pastor in this religion after all), she is exposing the Jews of Europe to yet more deadly anti-semitism, a mere 7 decades after the Holocaust:
A "final solution" by another means?
This riot by "refugees" took place last months, even before Merkel quasi begged for 800,000 more of the same. This is a "cleaned-up" video, the raw recording was considerably more savage and many "Allah-u-Akbars" were heard on it:
And here is Merkel, condemning the violence of..................
.........the GERMAN PEOPLE. Decent German folk like PEGIDA (*), who have had enough of the systematic islamamisation of Germany and Europe. She has form and this is not the first time she defames and insults largely decent Germans.
Here is one of the PEGIDA marches, peaceful, patriotic AND inclusive: see the Israeli Flag.
Among the new "protégés" of Merkel, the invading masses of soi-disant "refugees" and their often virulently anti-Semitic leftist supporters, no Jewish person would be safe, no kippa would be seen and the Star of David would probably only be welcome in "yellow" sewn on the lapels of coats and jackets.
After having helped to bring about Gaddafi's prediction, will this wannabe "Mother Theresa" seek solace in the arms of Hollande?
I don't think she will have much chance with that, he has something better waiting for him at the Élysée:
President François Hollande's partner, Actress Julie Gayet
\
(*)PEGIDA = Patriotische Europäer gegen die Islamisierung des Abendlandes.
(Patriotic Europeans against the Islamisation of the West).