This is Number 3 in the series of tweets I post from "our Israeli Solder". If you have not met him yet, look here for No. 1 and here for No. 2. I don't do his tweets justice - time, space, attention spans are short and so I each time I collect his tweets, I'm faced with a kind of "Sophie's Choice" because I like them all. I go looking for his tweets first thing in my Australian morning and when, one day, there were none, I got "worried". Virtuality has become quite real: for me "Gidon" represents Israel, and I am concerned for this embattled yet so brave little country.
This morning I found this, posted by someone who was obviously not on the side of Israel:
"I suggest that we will install #Israel on the moon....ok?" he goaded.
Gidon: "Well Israeli spacecraft will land there soon. Because we use our rockets for things other than killing civilians".


I've had some 700 new followers since I was called up for #OperationProtectiveEdge. There have been over 1000 rockets at Israel. Just saying.




Lots of pro-Palestinian new followers. Hope they learn that even as we fight we do not hate the people of Gaza. But the rockets will stop.



I'm not really pro Israel or pro palestine. I'm pro stopping rockets from being fired at children. I guess that does make me pro Israeli.
Retweeted by Gidon
"An Israel Soldier Giving Goodbye kiss to his kid
before leaving for the war
Just spent an hour cleaning the gun and fixing up the rest of the equipment. Don't tell my wife, that I know how to clean!
I remember seeing some very poignant tweets from our soldier about his children where he said that he had never been away this long from the littlies. I remember reading a quote from one of them asking what daddy's name was. Have spent a long time yesterday, looking for these pearls, could not find them but found this instead, the way Israelis prepare their children for relative safety from the HAMAS bombs. Apparently this song was written by a teacher a few years ago...so how long have HAMAS fired rockets at Israeli Kindergartens already?
I did find this tweet about his boy from 15 July:
My son (2) calls me early in the Morning to tell me to come home ...
A retweet:
@Gidon son drew 4 u & chevra. Chayal shooting projectile. Words on building behind 'Anachnu mitpalelim sachem'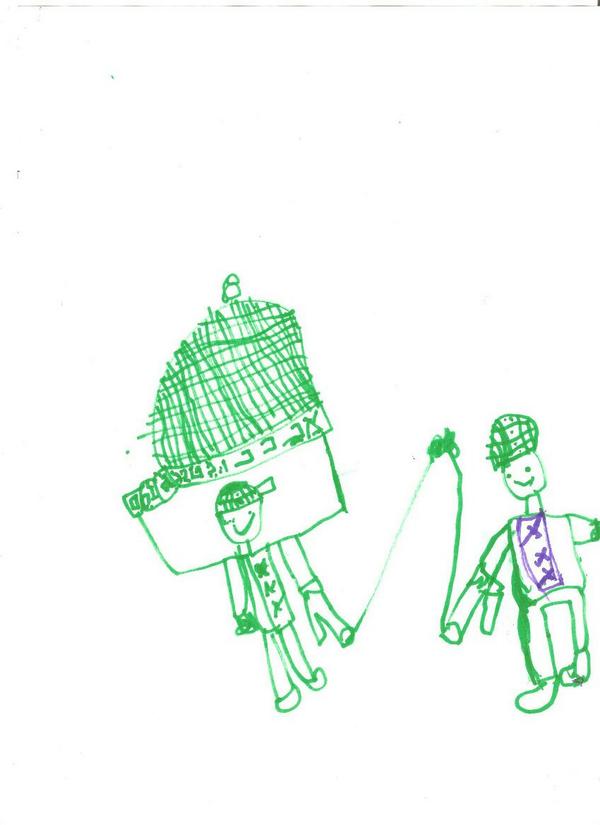 9. July 2014:
Red alert right now. Above my head. Sound like it was intercepted.
Unending noise from planes overhead
It's 36 degrees Celsius here. Hot.
This says it all: Hamas instructs Gaza residents to ignore IDF warnings, refuse to evacuate buildings targeted by Israel Air Force.
Keep reminding myself. If terrorists attack, first deal with that threat, and only after can you stop and tweet about it
It's actually a lovely night for guard duty in the desert. Lots of stars. Quiet, except for the occasional plane/ helicopter
Hive mind : there is a quote I remember but can't place: men left alone with guns at night have strange thoughts. Who said it?
A retweet:
Emily Dickinson gravestone temporarily visible w.o. obstruction during fence #preservation in #AmherstMA last summer
@Gidon: Thanks for RT. Glad (1) you found charger (2) you have time for poetry in midst of somber circumstances
Hope is the thing with feathers

That perches in the soul,

And sings the tune without the words,

And never stops at all,



And sweetest in the gale is heard;

And sore must be the storm

That could abash the little bird

That kept so many warm.


I've heard it in the chillest land

And on the strangest sea;

Yet, never, in extremity,

It asked a crumb of me.
Today is the fast of 17 Tammuz, marking the beginning of the siege of Jerusalem 2000y ago. Today we fight for safety of the Jewish state.
· BBC continues to promote theme of "homemade" rockets
Reading some papers description of Hamas rockets, it seems the journalist believe Hamas is bombing Israel with giant Hello Kitty dolls..
The area around Gaza is really quite beautiful
·#OperationProtectiveEdge is slowly moving from the soldiers wanting free pizza phase, to the wanting clean underwear phase.
"Can you spot the soldier?"
16th July 2014
The shirt that was too filthy to wear three days ago, is now the "clean" shirt of today. In the army dirt is a relative concept.
It's been a week since we've been called up. I don't mind staying much longer, so long as we put an end to the reality of rocket fire.
A humanitarian cease fire is as great time to sit atoning and wait for the Hamas to break the ceasefire.
Geez who would have guessed that a terror organization doesn't respect humanitarian cease fires?
· The Hamas never miss an opportunity to screw up life for the Palestinians.
So using my night vision scope I was watching a hedgehog in a field for 5 min. I've never seen a live one in Israel before.
Talk about things going bang in the night... Finished patrol where every minute something exploded.
It has been over a week since I've been called up. I've no regrets. This war was forced upon us, and we will prevail against terror.
No hatred of the people of Gaza, but we will not allow our citizens to be targeted by rockets and tunnels of terror.
This is an eminently justified war. Rockets must stop, tunnels must be neutralized.
Reports in Israeli media that UNRWA actually gave back to Hamas those rockets it hid in an UNRWA school. Speechless.
@ChrisGunness want to explain to Israelis why you gave Hamas back the rockets they hid in a school?
@HillelNeuer have you seen reports UNRWA gave the rockets they found in school back to Hamas ???
Look I'm not anti UN. But at least regarding the Arab-Israeli conflict it really should just admit it has no credibility.
What happened to the days when during war Leonard Cohen would come to IDF bases to sing for the troops? Leonard where art though?
Can't get more Israeli than sitting in army uniform, vest and gun, and eating Bamba.
A cake that arrived at base with this note..